---
jrc wrote:

ANOTHER question!!!

Strictly speaking, the tabor is the drum; so is the 'pipe' termed specifically a 'tabor pipe', or is there another name?


In English, the name of the instrument is pipe. Being a rather vague word, it is usually referred to as a tabor pipe or a three-hole pipe, to distinguish it from other types of pipe. In Spanish it is called the three-hole flute. The word flageolet, in French, originally referred to the tabor pipe, and the classical flageolet developed from it had two fingerholes and a thumbhole for each hand. The English flageolet, patented in the 19th Century, moved the thumbholes to the front, making it easier to play but losing the chromaticism. Today the French tabor pipe is called a galoubet.

The word pipe originally referred to these instruments, and comes from an onomatopœia for the sound a bird makes.



jrc wrote:

The range on paper of the pipe makes my ears ring looking at it.


It's more conventional to show the music lower on the staff. I've redone the chart to reflect this. I think it'll scare people less, and also be more useful.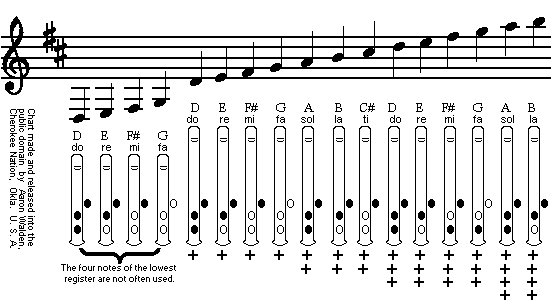 Its usable range is similar to a fife. I used to think a low-pitched one is better, but after I got to really playing it, I realized that the smaller, and higher pitched ones stand out better against the drum. Mid-range instruments, like a Bb or low-G have proven to be a popular pitch for them.

Traditional English pipes tended to be in high D, like a pennywhistle, and the drums were small and shallow, and could be made from a cheese-wheel box.

Anther note on the drums:

The English used a shallow drum in the 19th Century, whereas the French used a deep one, and the Spanish used different sizes depending on the type of pipe, but all were suspended from the player, usually either from the piping hand, arm, or wrist, or else from the neck or belt. But it was always portable.