When one teaches, one lives each break to the fullest.
Today we were invited to some friends' house for dinner after church. It was the neatest thing. We brought a salad to share, and when we got there, found another family was invited as well. We all were delighted--more fun. Another family showed up, then another. Turns out the whole church was invited. We had a glorious time. After most people left, a young woman in their family and I talked about playing violin and whistle together. We hadn't done that in several years. She walked across the road (that's where she lives) and got a couple of violins.
She's just learning, so our music connected just a bit here and there. Didn't quite work most of the time, but when it did it was quite delicious for a phrase or two.
It was a perfect day for making music. Probably the last warm day before winter. A big picture window, beyond which you could see a farmer giving his soil that final turn-in before it rests. With that as a backdrop, picture the Appalachian music we could play. People were singing in harmony. She knows some of the early American reels people used to do, and she played those. Then she started playing just "feeling" music. Bent notes, beautiful music. She's an artist, so you can feel her feelings when she plays. She heard us talking about the perfection of the day and the scene out the window, so she got up and looked out and just played. Grabbed my camera.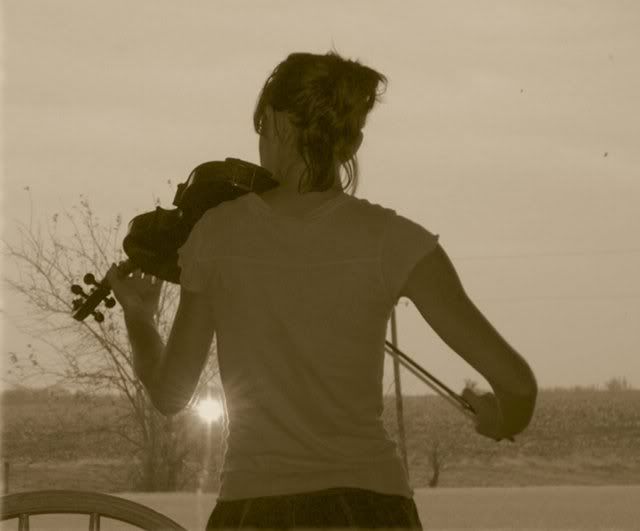 That's
music.