Yeah, okay, more photos.
Actually, the day I got the squirrel I wasn't actually looking for him. I was mostly just bored with winter and looking for signs of spring.
I'd taken all the photos I could stand indoors. This creature is much easier to capture than a squirrel.
That's Maggie, the longhaired dachshund. She's really old. She comes from a litter of some of the first English cream dachshunds in the U.S., although she's mostly red. Her pa was a show dog, but we don't hold it against her.
So anyhow, the weather was nice so I went outdoors to look for signs of spring.
A dead leaf. Dead. As a doornail. Still clinging for no good reason.
Trees are budding. That's hopeful.
Wow! A lot of buds in this one.
Still, what I really wanted to see was something green and growing, so I went down to the creekbed. You know the scripture...he is like a tree planted by rivers of water...you can always find some green down by the water first.
Hmm. No green here.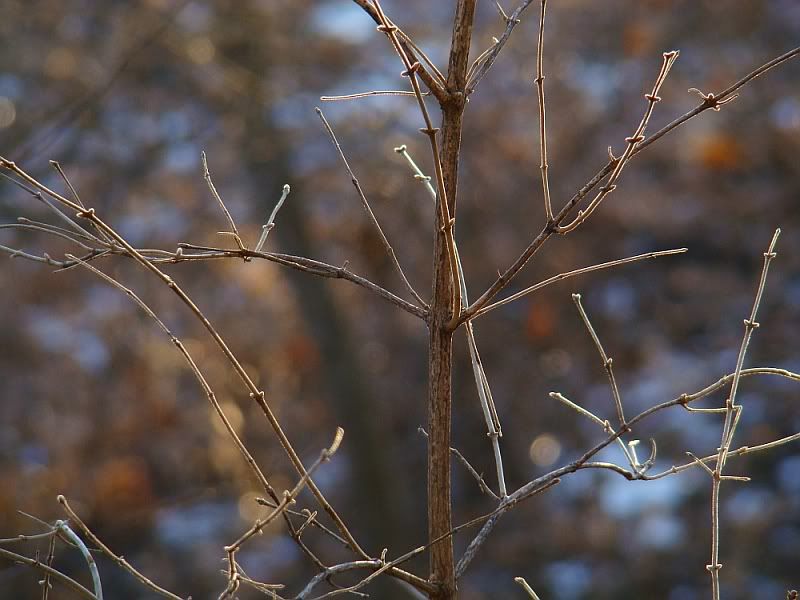 Yikes! Thorns are why I always tread carefully on this path.
Still no green. Okay, some moss, but you can't count moss....wait! Are those ... it can't be! Grass blades growing beside the mossy patch!
Okay, grass can survive a lot of winter, especially in a damp spot like this. I'll need better proof that spring will truly come to us again.
Wait! There....under those leaves.
And that, folks, is proof that spring will come, even to the Midwest.